Smart Money
We define smart money as the deliberate staged sourcing and allocation of capital to meet significant and measurable objectives that demonstrate opportunity, prove capabilities, create income, and decrease risk. This approach requires the establishment of a reasonable action plan and budget with milestones starting from a company's current development stage.
The optimal path for capitalization depends in great measure on a company's stage of development.  While there are many common elements, the practical funding options and strategies of a pre-revenue startup are generally quite different than those for a $5 million company seeking to grow to $10 million.  The Smart Business Capital approach takes such differences into account.
Keys to Success
We believe the most intelligent approach to capitalization success is in the convergence of proven methods and processes, expert collaborative support, Gold Standard service, and real-world solutions.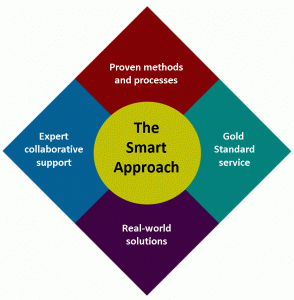 Process Driven Quality and Structure Matter
Many entrepreneurs approach us with spreadsheets, business plans, and presentations looking for investors to write checks. The content, organization, and quality of these documents vary significantly. This situation is the same for investors, creating the challenge of discovering gold nuggets buried in mountains of pyrite with very limited prospecting time. This is a major obstacle for both entrepreneurs and investors.
To address this issue, we have developed a turnkey process that prepares entrepreneurs with the right tools and preparations for raising capital using a structure and approach that is easy for investors to understand and analyze. The result is that entrepreneurs and investors can reduce prospecting time and spend more time on qualified discussions. Entrepreneurs are also well prepared for these discussions due to the collaborative nature of our consulting and investment packaging process.
Your Capitalization Path
If you're just starting the jouney, you've found the right starting point. If you've been seeking capital for a while, we look forward to energizing your efforts and helping you along new paths of opportunity.