Our Capitalization Process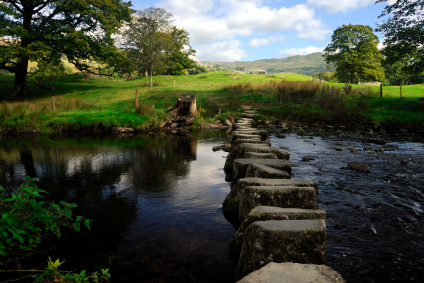 As a company, we are focused on delivering methods and processes that will help take your business where you want it to be. We have lengthy experience in successfully developing simple and effective business processes for highly complex subjects. Our capitalization process was created and proven over the course of a decade to deliver significant financial results for businesses. This proprietary process consists of five primary steps:

Evaluate the business to identify key strategic approaches and milestones leading to its next stage of development.
Build a powerful dynamic financial model to prepare for the capitalization process and beyond.
Utilize insights from the financial model to develop a capitalization plan, and identify unique sources and strategies appropriate to each company and stage of development.
Create materials to facilitate and support the capitalization process, including business plans, presentation materials, and investment documents.
Provide consultation, referrals, and other hands-on services to advance the capitalization and growth of the business.
The apparent simplicity of these steps does not equate to a one-size-fits-all or a paint-by-numbers solution. For example, if you give paint, brushes, a pencil, and a canvas to a room full of artists and explain that to create a beautiful painting you first pencil the outline, then paint the background, then the medium detail, then the fine detail, the result will be different in every case even though the process is the same. We can be likened to a skilled painter that helps each artist (or businessperson) through the details of each step to create a unique end result (capitalization solution) that enables them to achieve their vision. Click on the image below to view the process in more detail.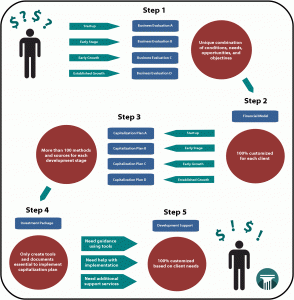 This comprehensive and rational approach will give your business its best possible chance for capitalization success. The process enables you to do the right things in the right way at the right time. It helps eliminate wasting time and money on distractions, misaligned efforts, and nonessential activities. You gain greater visibility of a realistic path leading to the achievement of your business goals.
Phased Engagements
Our services are offered in a logical sequence of engagements. The first phase establishes a strong foundation and map for all support services that follow.
Business Evaluation, Dynamic Financial Modeling, and Capitalization Planning services are normally bundled together as the first phase of client engagement. The Capitalization Plan identifies which documents and other tools are needed to secure capital from the sources identified in your plan. We'll provide a proposal for each of these elements at the conclusion of this engagement.
The second phase of engagement is the creation of the specific elements needed to support your Capitalization Plan.
The third phase of engagement is hands-on support implementing your Capitalization Plan, leveraging your company's unique strengths, resolving business problems that arise, and pursuing new opportunities that emerge. The common thread is a laser focus on helping you secure and generate high returns from invested capital.
Our proprietary processes, expertise, and disciplined approach
can dramatically improve your potential to get capitalized
and achieve successful financial performance.